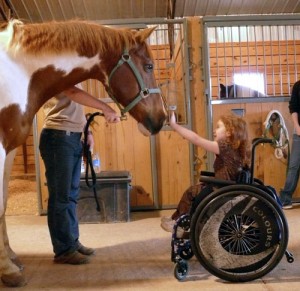 Animals visiting hospitals are not an uncommon occurrence. A volunteer may bring their well behaved pet to a hospital to play with residents, and although there is typically no long term goal set for these interactions, occupational and physical therapists agree that the boost of morale is undeniable. Studies have proven that just being around and playing with dogs can end anxiety and decrease stress, increase physical activity, relieve depression and motivate patients in hospitals and rehab centers.
Hippotherapy takes this idea a step further, by using horses as part of a physical, occupational or speech and language therapy treatment strategy utilizing equine movement. Research conducted by the American Hippotherapy Association has proven that the multidimensional movements of the horse provide a disabled rider with "the opportunity to explore, control and coordinate posture and movement". Horseback riding, as part of horse therapy, gently and rhythmically moves the rider's body in a manner similar to the way a human walks. Learning to ride a horse requires both balance and coordination, and because many physically disabled individuals lack muscle tone, their coordination is severely lacking. Horse therapy gives a disabled person a physically enjoyable experience; helps develop muscle tone, balance and coordination.
Alternatively, animal assisted therapy is designed to promote improvement in human physical, social, emotional, and/or cognitive functioning and is delivered by a health professional with specialized expertise. One study, conducted in 2009, concluded that adults who use animal assisted therapy while recovering from total joint-replacement surgery required 50 percent less pain medication than those who did not.* An example would be a woman with a stroke, who has difficulty standing or walking for long periods of time. To encourage her to stand for longer, a dog is put up on a table and she is willing to stand longer to pet the dog. She challenges herself to walk longer distances to walk the dog.
Children are especially likely to respond well to animal assisted therapy. In animal assisted therapy, a child will feed, pet, and clean the animal, which encourages movement and gives a child a sense of empowerment. It allows the child to decide when and what to feed the animal, when to clean it, and how to make the animal trust him or her. Additionally, the child must control emotions such as anger and frustration in order to get the animal to cooperate, and this control transfers to outside activities.
Therapy dog handler Deborah Nozawa says that the healing benefits she has witnessed derived from animal assisted therapy is "miraculous." A therapy dog named Cassie worked with a visually impaired child that also had other physical and emotional disabilities. The child started out curled up on a beanbag chair, and Cassie approached her and gently nudged her arm with her nose. The therapy dog then pushed her muzzle under the child's clenched hand and licked her. Before long, the child opened her hand and relaxed it. Then Cassie laid down next to the little girl, and the child relaxed her hands even more and was able to pet the dog. Soon the child was even smiling.
Animal assisted therapy such as a therapy dog or horse therapy are just some of many different strategies that health care providers can use to promote patient compliance and improve traditional therapy results. Interestingly, horse therapy is opening other doors for the physically and mentally handicapped. The Special Olympics now includes equestrian competitions at both the national and international levels and the Paralympic Summer Games includes equestrian categories.
To learn more, visit the American Hippotherapy Association or Equine Therapy.com.
*For more information: http://www.sciencedaily.com/releases/2009/11/091116131824.htm