Actions Speak Louder Than Words
Warrior Foundation / Freedom Station
North Coast Medical's commitment to the military has a long history. Our co-founder, Frank Biehl, proudly served in WWII, and is one of 1.7 million Americans from that war alive today. Continuing our support for the troops, in 2013, we pledged $100,000 to Warrior Foundation/Freedom Station in San Diego.

Freedom Station fills the void for a transitional living environment that servicemen and women often lack as they return to life outside of the military. While they may not be in a war zone anymore, our injured servicemen and women face new challenges when they return home – the often untold story of coping with injuries, rehabilitation and a transition to civilian life. Freedom Station's 12-unit housing complex consists of four apartments and eight cottages all surrounding a central courtyard. Freedom Station was ideally set up to offer the camaraderie that is so crucial to veterans during the transition period. They are able to feel a true sense of community as they recover among their peers, share war stories and know they are supported by others who understand firsthand the harsh realities of war.
Freedom Station also provides assistance with, and access to, professionals and qualified volunteers who assist with educational and career guidance, and other issues relevant to transitioning to civilian life. Founded by Sandy Lehmkuhler, a Navy wife of 31 years, who while volunteering at Naval Medical Center San Diego, became distraught to find that the hospital's injured were lacking some basic quality-of-life items. Spurred by a conversation with two amputees who required special electric razors for shaving, she went on the radio to make a plea for donations and the Warrior Foundation was born. Since then, the Warrior Foundation has been dedicated to assisting military men and women who have served for our country in the War Against Terrorism. The foundation provides every kind of support imaginable, from airfare and hotel rooms for parents coming to their injured children's bedsides, special sunglasses for those whose retinas detached after IED blasts, modified combat boots for prosthetic limbs, and hundreds of plane tickets to send warriors home for Christmas.

To pledge support and/or for more information, please visit: Warrior Foundation
HOPE Rehabilitation Services

From 1983 to 2017, North Coast Medical was honored to have HOPE Rehabilitation Services integrated within our operations. It began with the Biehls' passion to assist individuals with independence and comfort in daily living. Aside from supplying products for this purpose, nothing more clearly demonstrates this desire than the partnership with HOPE Rehabilitation Services. In 1983, in an unprecedented move, North Coast Medical became the first company in California to establish an onsite sheltered workshop for special needs individuals. Working side-by-side, North Coast Medical and HOPE nurtured a relationship built upon a similar founding principle: the desire to help people experiencing difficulties in daily living flourish in their everyday environments.
Humanitarian Aid
The Biehls' commitment has transcended throughout the business right down to the North Coast Medical family of employees. It is without hesitation the employees of North Coast Medical have chosen individually to participate in a matching program for catastrophic events. Employee contributions along with North Coast's matching funds have enabled thousands of dollars to be sent to Katrina victims as well as those affected by the Japanese earthquake and tsunami. If not financially, employees have rallied together to organize and ship rehabilitation products and supplies around the world to those affected by natural disasters or those lacking proper rehabilitation care.

It is why we say "From our hands to theirs".
Wenzhou, China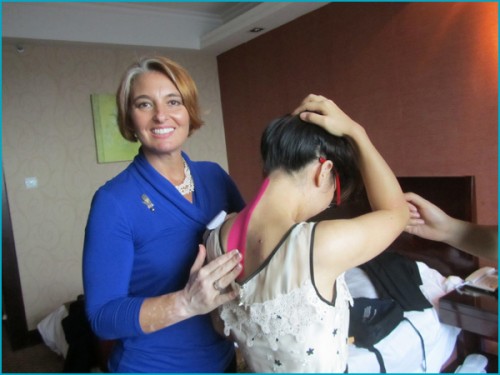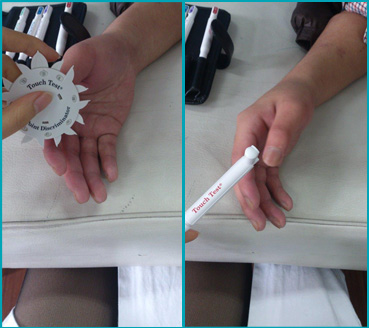 "Please know that because of your most generous donation many Chinese therapists are better resourced and many injured people in China are gaining functional use with their hands!"
- Heather Wood, OTR/L, CHT, LMT
Haiti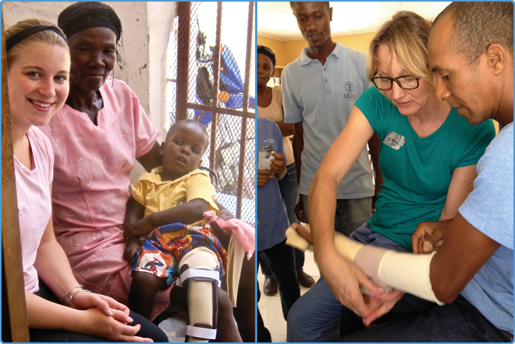 "We had a successful trip to Haiti and visited 2 hospitals; one serving spinal cord injured patients in Font de Blanc, another in Les Cayes serving children and adults in an outpatient clinic. The materials from North Coast Medical that you sent were so appreciated by the therapists and patients alike. As packages mailed to Haiti are often lost or stolen, the hand delivered materials were treasured. I split the materials and left some with each hospital, after we fabricated hand and foot/leg splints and braces. The staff was so grateful!"

"Thank you and your wonderful company for your genuine caring and generosity!"

- Ellen Carr, OTR CHT
Donating Supplies to the People of Nepal

"Caring for people who would not have help is the best part of being a therapist!  I would especially like to thank you [North Coast]for making this happen. The people of Nepal were so kind, caring and appreciative. I was the one lucky to be there…"

Thank you so very much for all of your assistance for making the trip a success."


- Susan Louie OTR/L, CHT
Nicaragua

"I cannot thank you enough for donating the supplies for my Medical mission trips to Nicaragua. I can tell you that I would not have been able to treat the post op patients that we had without your generous donation of materials especially the splinting material.
On Sunday, our clinic day we saw about 40 patients over the course of 4 hours without a break. There is so much mismanagement of injury and unnecessary disability; things you would never see in the US.
I was joined by another OT from New York and two hand surgeons from Indiana. We had a wonderful experience. I do hope to return to Nicaragua as there is so much need there and hope we can work together again in the future.

Thank you again for your most generous donations."

- Heather Wood OTR/L, CHT
Haiti

"Our group of 11 people (5 physicians, 1 PT, 1 med. Student, 1 engineer, 1 nurse and 2 translators) were able to make a difference in the lives of hundreds of refugees in a tent city of 1500. In the pictures you will see Reginette, a 13-year-old girl who had been walking home from school with her sister at the time of the earthquake. All she remembers is feeling dizzy and waking up to find her leg crushed and her sister dead beside her. Her left trans-tibial amputation was performed on a kitchen table with only Tylenol to lessen the pain. Before we arrived, she had had no follow up care since the surgery. By the time we left she was confidently walking around the tent city, negotiating stairs and more importantly, smiling."
– Julie Morrison PT, DPT
Uganda

"We are so grateful for the splinting materials you provided from North Coast Medical, they were essential for working with patients in the clinics! During 8 days of clinic, the medical team of over 105 healthcare providers saw over 2000 patients. At one site in northern Uganda, we helped refugees that traveled over 8 hours from Sudan, sleeping at the clinic site, just to see medical professionals. Our team of occupational and physical therapists saw countless patients recovering from strokes, burns, head injuries, and developmental disabilities from birth."

This trip has touched the lives of so many people in more ways than I can begin to explain. I cannot thank you enough for your generous donation of equipment for this trip."

"Custom made hand braces for a woman with severe RA. She was so excited because she said she could continue to work in her garden with the using the new braces!"

Sincerely,
Patty Coker, PhD, OTR/L
Assistant Professor
Division of Occupational Therapy
Medical University of South Carolina
Nicaragua

"I just wanted to personally thank North Coast Medical for the generous donation for my trip to Nicaragua.  You guys truly made a difference considering they had no splinting material or wound care supplies.  Our team performed 30 hand surgeries that week in which the majority needed post operative splinting."
- Jay Gerzmehle OTR/L CHT, CSCS, CEAS

"You need to know how much the North Coast Medical donated supplies helped needy patients in Nicaragua. I also used the supplies to train some therapist. Thank you again for your generosity and helping so many people."
-Tavi Karpilow
San Luis Sports Therapy & Orthopedic Rehabilitation

Poker for the Troops Hold'em Charity Tournament and Auction" for San Luis Sports Therapy & Orthopedic Rehabilitation. (North Coast Medical table donation)
Scholarships
Each year, since 1996, North Coast Medical has provided scholarships to individuals who are currently enrolled in accredited occupational therapy programs. Facilitated through the American Occupational Therapy Foundation (AOTF), recipients are chosen among hundreds of applicants. We, at North Coast Medical believe that students are the future and through support like ours, can further the advances in rehabilitative therapeutic practices.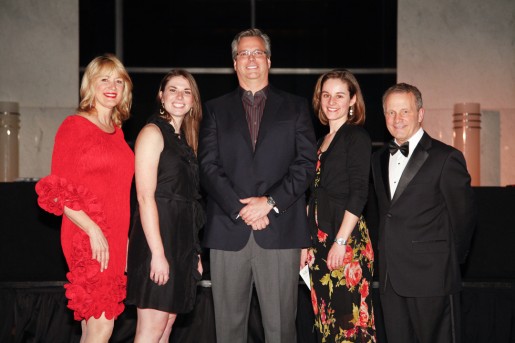 Education

North Coast Medical's commitment to helping students further their education does not end with helping them fund it; North Coast Medical's certified, professional therapists frequent local universities.  There, therapists teach students about the career options they have when they pursue a degree in occupational or physical therapy, and what it's like being a part of such a profound profession. By providing students with products they can try and touch, North Coast gives students a hands-on experience a textbook simply cannot provide.