Take Control of your Supply Chain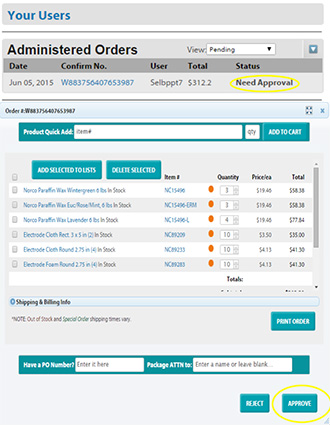 Control-Panel™ offers the opportunity to effectively manage the ordering process for organizations with multiple users and locations. Control-Panel™ is built around efficiency so to reduce the amount of time spent on the management and processes associated with ordering products, equipment and supplies. This amazing on-line tool has been used for years to optimize and streamline the ordering process for many of NCM's most dynamic customers. Control-Panel™ has proven to vastly improve management visibility, provide a mechanism to optimize spending, reduce expenditures and improve organizational profitability. Control-Panel™ does this by reducing or eliminating inefficient ordering patterns by standardizing and consolidating the products, equipment and supplies ordered throughout an organization. Control-Panel™ helps establish and maintain organizational integrity and accountability.
Control-Panel™ Key Features:
Order Management
Control-Panel™ establishes three types of groups: Users, Administrators, and Approvers. These three roles establish the hierarchal structure of Control-Panel™.
Users: This group comprises the individuals throughout an organization who coordinate and submit clinic orders for specific products, equipment & supplies. Users are typically assigned to an Administrator, but in some organizations, specified Users may not be assigned to an Administrator.
Administrators: The number of Administrators needed in an organization is dependent on the size and scope of the organization. A single Administrator can be established or multiple Administrators can be utilized. Administrators review and authorize all orders generated by those Users assigned to them (User Group).
Approvers: This group was established by customer request. Approvers add an additional layer of accountability and visibility to those organizations who want such.
Approved List of Items
Control-Panel™ allows Administrators to create one or more lists of Approved or Authorized items. When items are ordered by any user that are not on the Approved List of Items, Control-Panel™ provides clear and distinct visibility of those items to the Administrator for review before allowing the order to proceed. This allows for further scrutiny by management to consider alternatives, make changes to the order, refect the items requested and/or return the order to the original user with an associated message.
Expenditure Limits
Administrators can assign ordering limits by user or location where more than one user exists. The administrator can request to see any order of any value that includes an item not on the Approved List of Items or remove that aspect at the user level and only view those orders that exceed the established limit amount.
E-Com Integration:
Control-Panel™ is fully integrated with our E-Com ordering platform and all it features, including, but not limited to, MyLists, Advanced Search and our extensive Competitive Crossover Tool and Database.
Quick-Slam™
This ingenious and simple tool was created to improve order entry efficiency for our customers. Quick-Slam™ allows you to upload an Excel or CSV data file so to automatically populate a shopping cart. This feature can be a great time-saver.
Data Analysis
Control-Panel™ allows our customers to view and/or download to Excel all their data for analytical purposes. Data can be accessed by date-range, location, user or user groups (those assigned to a specific Administrator).
Customer Item Coding
Control-Panel™ offers the opportunity for our customers to assign a code to any item ordered for internal tracking purposes. This feature has been used for a multitude of reasons, including, but not limited to, sales tax and internal costs center classifications.
Custom Programming
The North Coast Control-Panel™ continues to evolve. This evolution comes from our attitude and practice of listening to our customers, understanding what it is they are asking for or what they need to remain viable and profitable. We take this knowledge and information and create solutions that meets those needs. Our prevailing philosophy is that our data that is your data, is your data. We know it can be very helpful for our customers to assess their expenditures, especially if they have entrusted NCM with the preponderance of those purchases. In other words, never hesitate to ask if you need something more. We are here for you and no reasonable request will ever be denied. Control-Panel™ is just one example of many investments we have made for our customers. This is what a Strategic Supply Chain Partner does for its customers and this is who we are.
Question: Who is your Strategic Supply Chain Partner?
Sign up for Control-Panel™
A North Coast Medical E-Com account is required to use Control-Panel™. If you don't have an E-Com account, click the button below:
Sign Up For North Coast Medical E-Com Account
If you have a North Coast Medical E-Com account and would like to sign up for Control-Panel™: