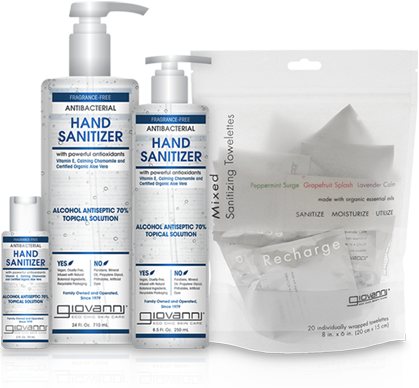 Moisturize and reduce germs and bacteria instantly with effective and high-performance hand sanitizing solutions.
Powerful, fragrance-free Hand Sanitizer is infused with nourishing antioxidant Vitamin E, Chamomile, and certified organic Aloe Vera.
Mixed Hand Sanitizing
Towlettes send germs
packing while soothing hands with certified organic oils of Grapefruit, Lavender, Peppermint and Spearmint. Conveniently packed and available in travel sizes.

Refresh With Aloe Vera
Aloe Vera – a gentle solution for non-greasy skin care – hydrates and soothes while providing powerful antioxidants to help rejuvenate each pore.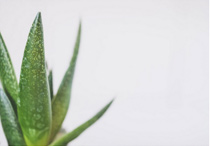 Fight Bacteria With Ethyl Alcohol
The powerful Ethyl Alcohol in our hand sanitizer gel helps eliminate germs – perfect for cleansing and refreshing at any time.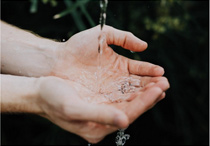 Nourish With Botanical Extracts
These cruelty-free hand sanitizers are infused with nutrient-rich botanical extracts to promote cleaner, healthier, and more vibrant skin.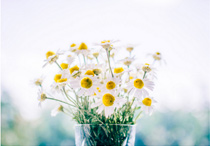 THE GIOVANNI RULE OF BALANCE
Since 1979, the Giovanni Rule of Balance has been our commitment to make each product as pure and natural as possible without sacrificing exceptional product performance.

Our products are formulated using a number of organic ingredients, all of which can be identified by an asterick (*) on the back of our packaging, in the ingredient list.

We pride ourselves on having never tested our products
on animals and our
Leaping Bunny Certification.

The vast majority of our products are vegan friendly with a few exceptions.
Say NO to:
Artificial colors
Mineral oil
Phthalates
DEA
Formaldehyde
Propylene glycol
Say YES to:
Sulfate-free lathers
Paraben-free formulas
Biodegradable ingredients
Powerful botanicals
Eco-friendly packaging
Cruelty-free commitment

See what else North Coast has to offer!
Our full site search and categories are below: