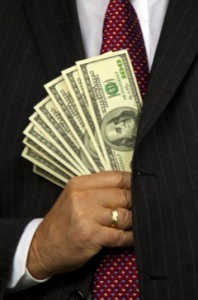 Years ago, we joined in opposition to Group Purchasing Organizations (GPOs), citing them as unnecessary middlemen who drive-up medical costs, compromise patient safety, thwart competition and stifle innovation.
We believe it is an important matter to update; but it's also worth re-examining what GPOs were intended to be, before greed and graft irreparably sullied the business model.
GPOs were originally created in the early part of the 20th century as cooperatives that enabled hospitals to band together to achieve volume discounts on medical supplies and equipment. Administrative fees were paid for by the buying members.
The original model worked to the advantage of hospitals, manufacturers, patients and taxpayers. Then in 1987, the 100th Congress passed legislation that provided a statutory safe harbor for GPOs under the Anti-Kickback Statute. As a result, GPOs now finance their organizations, not by membership fees, but through payments from manufacturers; turning this once vibrant cooperative model into little more than a pay-to-play scheme.
'The current GPO funding structure's incentive is to "negotiate" higher prices for its customers. The vendors with the most money can afford to pay the high fees and buy themselves into the game."
– Marilyn M. Singleton, M.D., J.D. Journal of American Physicians and Surgeons. Summer 2018
As an example of this pay-to-play scheme, one GPO's rather blunt marketing literature openly offers to 'deliver market-share' to medical supply, device and equipment companies in exchange for entering into GPO contracts – many negotiated with sole supplier provisions. This scheme favors large corporations, jeopardizes patient safety, undermines fairness, raises costs, and obliterates the laws of supply and demand that govern every other industry.
[GPOs] "have stifled competition in the entire hospital supplies marketplace, inflating annual supplies costs by at least 30%, or upwards of $100 billion."
– Physicians Against Drug Shortages
It is worth noting that the pay-to-play scheme for medical supplies, devices and equipment was extended to pharmaceutical companies in the form of middlemen called 'Pharmacy Benefit Managers' (PBMs) in 1991, by the 102nd Congress. As a result, we now have a growing menace of crucial drug shortages and parabolic price spikes. Pharmacy benefit managers broker most of the prescription drugs hospitals and pharmacies dispense — to the point of determining which drugs patients have access to. Perhaps not coincidentally, and in a time frame correlated with the ascent of PBMs, nearly all our essential drug ingredients (from antibiotics and chemotherapy, as well as medicines used in hospital and intensive care units) are now being cheaply sourced in under-regulated countries, primarily China — most without FDA oversight and nearly devoid of any assurances that U.S. pharmaceutical companies are performing their fiduciary duty to deliver unadulterated, safe drugs to the U.S. market.1,2
"More than $1 in every $5 in spending on prescription drugs goes towards profits of firms in the pharmaceutical distribution system."
– Neeraj Sood, PhD, Tiffany Shih, et al. Center for Health Policy & Economics
With consolidation into fewer controlling companies, today's GPOs and PBMs are even more powerful. Four giant GPOs control about 90% of annual contracting volume. They are in order of rank: Vizient (purchased MedAssets in 2016); Premier; HealthTrust and Intalere (formally Amerinet). The big three Pharmacy Benefit Managers that control more than 85% of all prescriptions dispensed in the U.S., are UnitedHealth Group, CVS Caremark and Express Scripts.
Despite the bad news outlined above, there is some good news on several important fronts. For instance, the numbers and professional heft of the people and groups speaking out against GPOs and PBMs have increased dramatically.3 4 5
The 36,269-member American College of Emergency Physicians (ACEP) formally adopted a resolution calling for the repeal of safe harbor for GPOs at their annual meeting in Washington, DC. (2017)
And just within the last year, several states have acted to curb drug price increases brought about by a lack of competition in the healthcare marketplace — which state legislators cite as caused by PBMs6. It is also important to point out that any success achieved in chipping away at the safe harbor for PBMs will ultimately affect GPOs as well.
Additionally, the long hoped for elimination of the middleman model may be replaced organically, using advanced cloud technology to streamline, simplify and reduce costs in the supply-chain7 8. Big tech names, such as Google, Amazon, Microsoft, IBM, Oracle and Salesforce recently announced a venture to use open-source tools to lower costs and improve patient outcomes.
Somewhat ironically, and pointing toward the increasingly obvious obsolescence of the GPO model, a former GPO executive at Vizient, Chris Holt, has been named leader of global healthcare at Amazon Business (a B2B model set up as a supplies marketplace for clinics and hospitals). Holt, in commenting about the failed GPO model opined, "In theory, this [GPOs] should get them [hospitals] better pricing… but in reality it drives tremendous inefficiency, because the end user that needs the product has to go through a lot of procedural steps — steps that tend to be driven on antiquated technology."
On the legislative front, Congress is said to be working on a solution to rein in out-of-control healthcare costs. And the Council of Economic Advisers recently produced a timely White Paper on the issue, citing PBMs as a reason to revisit the safe harbor legislation as a necessary step toward mitigating soaring drug prices.9
PBMs "exercise undue market power against manufacturers and against the health plans and beneficiaries they are supposed to be representing, thus generating outsized profits for themselves."
– The Council of Economic Advisers. February 2018
We are increasingly hopeful that the progress being made in opposition to GPOs (and now PBMs) since we first visited this matter in 2012 bodes well for an end to the current model. We look forward to a future that includes real price competition, greater patient safety and empowerment, and an inclusive business environment for trailblazers and innovators.
"Nothing should come between the company and our customers: that includes price, service, quality, or third parties."
– Mark E. Biehl, CEO, North Coast Medical, Inc.

1Gibson, Rosemary. Singh, J. Prasad. "China Rx: Exposing the Risks of China for Medicine." 2018. Promethethus
2The Subcommittee on Oversight and Investigations of The Committee on Energy and Commerce, House Of Representatives. "The Heparin Disaster: Chinese Counterfeits And American Failures." Washington, D.C. 2008.
https://www.gpo.gov/fdsys/pkg/CHRG-110hhrg53183/html/CHRG-110hhrg53183.htm
3Journal of American Physicians and Surgeons. "Group Purchasing Organizations: Gaming the System." Summer 2018 . Marilyn M. Singleton, M.D., J.D.
http://www.jpands.org/vol23no2/singleton.pdf
4TownHall. Mar 03, 2018. "The Multi-Billion Dollar Solution – Repeal Safe Harbor." Andrew Mangione, Vice President, AMAC
https://townhall.com/columnists/andrewmangione/2018/03/03/the-multibillion-dollar-solution–repeal-safe-harbor-n2456781
5Association of American Physicians and Surgeons. "Safe Kickbacks." Volume 74, no. 4 April 2018. Joseph Guarino, M.D.
https://aapsonline.org/aaps-news-april-2018-safe-kickbacks/
6The New York Times, August 9, 2018. "As States Rush to Curb Prescription Costs, Drug Companies Fight Back." (subscription only)
7Healthcare Dive. July 6, 2018. "Amazon Business' medical supply chain ambitions: 4 things to know."
https://www.healthcaredive.com/news/amazon-business-medical-supply-chain-ambitions-4-things-to-know/526985/
8Modern Health. August 13, 2018. "Google, Amazon, Others Join Interoperability Push."
http://www.modernhealthcare.com/article/20180813/NEWS/180819975
9The Council of Economic Advisers. February 2018. "Reforming Biopharmaceutical Pricing at Home and Abroad."
https://www.whitehouse.gov/wp-content/uploads/2017/11/CEA-Rx-White-Paper-Final2.pdf