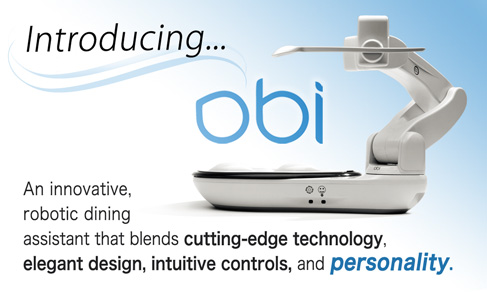 View the introductory video
 to discover how Obi impacts lives and hearts!
Feeding oneself is a basic human need. That's why millions of people living with conditions affecting the upper extremities find the experience of being fed by caregivers to be conspicuous and frustrating. Struggling with a disability is hard enough without the indignity of not being able to control one's food selection and pace of eating.
Meet Obi™ – a revolutionary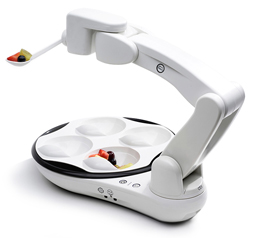 and charming robotic dining device that empowers users by providing an enjoyable, dignified dining experience. Obi gives users the freedom to choose the food they wish to eat, at their own pace, while enhancing social interaction during meals. And caregivers are given the gift of improved productivity by the alleviation of time pressures and stress. Everyone's quality of life benefits from Obi's astonishing capabilities and personality.
Whether used for home care or by hospitals, clinics and other facilities, Obi's charm and ease of use promotes hope and a better future for all who engage with this friendly, cutting-edge robotic self-feeder.
North Coast Medical is proud to be the first distributor to offer Obi. We encourage you to explore this amazing device in more detail by clicking HERE.