Good Grips® Weighted Adaptive Eating Utensils
Click an image to enlarge
Extra weight helps minimize tremors while eating.
The 6 oz. (170g) of added weight in the built-up handle provides more control so that the utensil reaches the mouth easier.
Good Grips® Weighted Adaptive Eating Utensils are ideal for persons with limited hand control, Parkinson's disease or spasticity.
The forks and spoons have a special twist built into the metal shaft which allows bending to any angle, for either left or right-handed use.
All weighted utensils provide the same benefits as the standard Good Grips® Cutlery.
Available in sets of 3 and 5.
Not made with natural rubber latex.
Manufactured by North Coast Medical, Inc. Licensed from Helen of Troy Limited.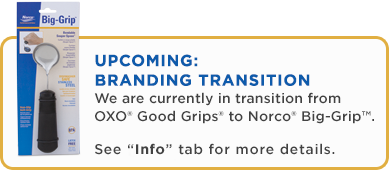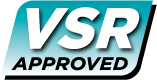 Special Order: Items that either ship directly from the factory, is made to order or those that require additional shipping considerations. Special orders can be placed by calling customer service at 800.821.9319. Please login to view professional pricing or inquire whfdsfdsen placing your order. Special Orders are processed in a timely manner to assure customer satisfaction.
Please pardon our transition
NCM is currently transitioning the Oxo® Good Grips® product line to Norco® Big-Grip™. As our Good Grips® inventory depletes, it will be fulfilled with Norco® Big-Grip™.
All Norco® Big-Grip™ products will be made to the exact specifications and the functional aspects will be identical. Only the brand name will change.
Currently, we have some remaining Good Grips® branded products in our warehouses. Once depleted, all future inbound shipments will be the Norco® Big-Grip™ brand. Our next shipment of product is scheduled to arrive mid-September. The transition will continue to roll out with a second shipment in mid-October and a final shipment, to complete the transition, scheduled to arrive in November, 2021.
For any questions concerning this transition, please contact your NCM sales representative, or our Customer Service department.
Volumetric Information
Case Specs
Inner Carton Quantity: 12 pcs.
Master Carton Quantity: 60 pcs.
* Note case specs do not apply to Sample kits.
Product Barcode
NC65560: 768627655606
NC65561: 768627655613
NC65562: 768627655620
NC65564: 768627655644
NC65565: 768627655651
NC65578: 768627013567
NC65560-S: 768627004763
Hazmat: None
HCPCS*: None
* North Coast Medical, Inc. cannot guarantee that suggested codes are the most current available. This information is not intended to be, nor should it be considered billing or legal advice. It is within the sole discretion of the customer to determine the appropriate billing code, as well as whether the use of a product complies with medical necessity.
In-Stock Items: Orders received before 6:30 pm EST will ship the same day.


Out-of Stock Items: Shipment times will vary, depending on expected arrival to our inventory. The typical wait time is just a few days. Orders with both in-stock and out-of-stock items will be shipped partial, with any out-of-stock items being back-ordered and shipped complete when all back-ordered items are available. Note: All freight and handling charges are calculated on the original order. Back-orders ship and invoice separately and will not be charged additional freight and handling.


Direct-Ship Items: Direct-Ship items are shipped directly from the manufacturer. We place orders with the manufacturer within a few hours of receipt of your order. Shipping times will vary, depending on the efficiency of the individual manufacturer.


Special Order Items: Require additional information such as delivery environment and service level in order to provide an accurate shipping cost and expected date of delivery from the manufacturer.


On Demand: Can be expected in 10-15 days. When orders are placed for these items, we will order them from the manufacture, and they will be included in our next incoming shipment. Once we receive your items, we will ship them to you from one of our two domestic warehouses. Note: We place orders with our vendors once a week, typically on Mondays.


Drop Ship: Are placed with the manufacturer within 24 hours of receipt and are shipped directly from the manufacturer to your specified address. Shipping times vary as it is based on manufacturers inventory availability and/or ordering processing time.
| Item Number | | Description | You Get | | Availability | Price | Qty |
| --- | --- | --- | --- | --- | --- | --- | --- |
| NC65562 | | Tablespoon | 1 | | In Stock | | |
| Item Number | | Price | Qty | |
| --- | --- | --- | --- | --- |
| NC65562 | | | | Details > |
| Item Number | | Description | You Get | | Availability | Price | Qty |
| --- | --- | --- | --- | --- | --- | --- | --- |
| NC65560 | | Fork | 1 | | In Stock | | |
| NC65561 | | Teaspoon | 1 | | In Stock | | |
| NC65564 | | Souper Spoon | 1 | | In Stock | | |
| NC65565 | | Rocker Knife | 1 | | In Stock | | |
| Item Number | | Includes | You Get | | Availability | Price | Qty |
| --- | --- | --- | --- | --- | --- | --- | --- |
| NC65560-S | | (Fork,Teaspoon, Tablespoon, Souper Spoon, Rocker Knife) | Set of 5 | | In Stock | | |
| Item Number | | Price | Qty | |
| --- | --- | --- | --- | --- |
| NC65560-S | | | | Details > |