North Coast Medical was excited to be exhibiting at the ASHT 38th Annual Meeting in Denver, Co October 8th-11th at booth's 100,102,104. We had a spectacular lineup of products to showcase at this years conference.

There's Still A Few Seats Left
North Coast Medical hosted several successful seminars at the ASHT 38th Annual Meeting. The response received was overwhelmingly positive and we look forward to connecting with those who attended.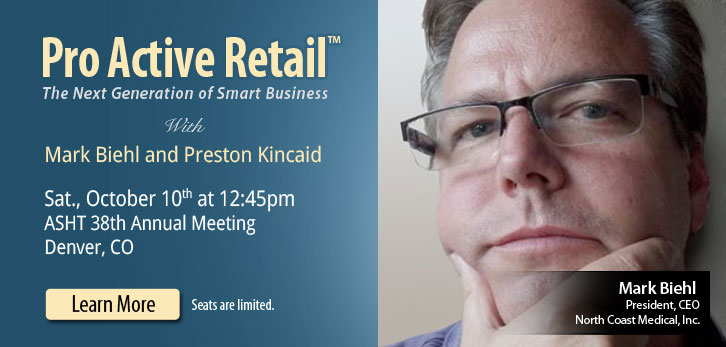 ProActive Retail™
The Next Generation of Smart Business
Saturday, October 10th from 12:45-1:45pm we provided an opportunity to see how North Coast Medical's technological developments can impact your business, many of which can be up and running on your website or in your clinic in minutes. Mark Biehl President and CEO of North Coast Medical and Preston Kincaid, Creative Marketing Director of North Coast Medical teamed together to present the latest revolutionary ecosystem ProActive Retail™.
To learn more about this past event, click here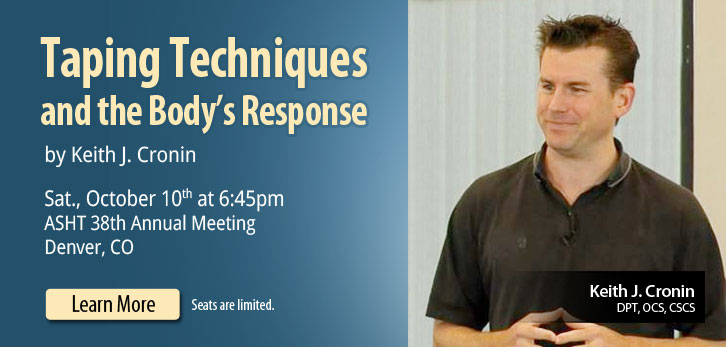 Taping Techniques and the Body's Response
A special evening with Keith to learn unique taping techniques in this instructional one hour class, on October 10th at 6:45pm. He's personable and friendly, and presents in a fun and engaging style. Dr. Keith J. Cronin, DPT, OCS, CSCS provides education for Dynamic Tape on mechanical taping and methodology to promote patient rehabilitation and athletic performance to healthcare and sports professionals.
To learn more about this past event, click here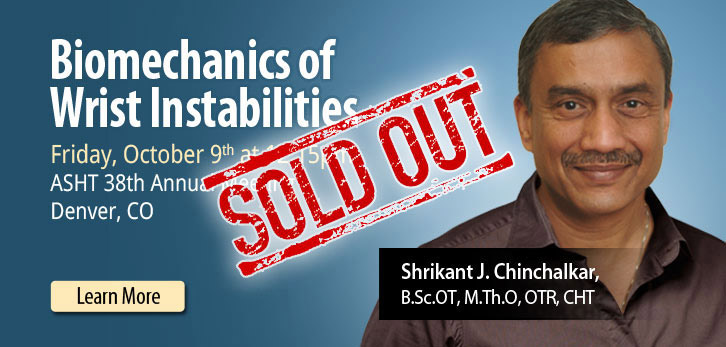 Biomechanics of Wrist Instabilities - SOLD OUT
On Friday, Oct. 9, 2015 from 12:15-1:15pm award-winning hand therapist Shrikant J. Chinchalkar conducted a live seminar "Biomechanics of Wrist Instabilities" at the ASHT 38th Annual Meeting in Denver CO. He has over 40 years clinical experience in treating upper extremity conditions, and over 30 years teaching experience. He was awarded the "Dr. Paul Brand Award of Excellence" by ASHT, "Award of Leadership" by CAOT, and the "Award of Excellence" by the Sisters of St. Joseph's Hospital. He authored five book chapters, has published 26 papers and 15 abstracts in numerous peer-reviewed journals. All attendees received a free Comfort Cool Ulnar Booster™.
To learn more about this past event, click here
Where?
All of our seminars took place in the Hospitality Suite at Sheraton Denver Downtown Hotel in Plaza Court #1, located on the main concourse level of the hotel.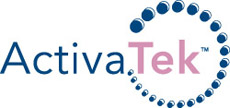 At this conference we demonstrated our technologically advanced ActivaTek™ product line. Activatek™ offers a combination of wired & wireless iontophoresis technology that provides physicians, patients and physical therapists with unparalleled control of iontophoresis drug delivery. Our lineup of ActivaPatch™ products feature three state-of-the-art, self-powered iontophoresis patches. Our booths also featured live demonstrations!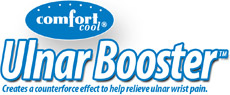 This year we showcased our Comfort Cool® Ulnar Booster™ wrist splint, that has been designed specifically for people experiencing ulnar-sided wrist pain and midcarpal instability. The Ulnar Booster™ wrist splint provides biomechanical counter forces to the ulnar carpus while depressing the ulnar styloid in order to help realign and stabilize the carpal bones. This lightweight, unique splint helps restrict painful wrist motion while still allowing functional hand use.


This is not your average tape, It does something completely different. Its four-way stretch and extreme recoil properties, allow for a genuine biomechanical approach to taping. The tape is applied in a way that allows the elastic energy to decelerate motion and absorb eccentric load. This energy is stored once the deceleration is complete and then injected back into the system as shortening commences. The force is similar to that of a bungee cord.


The next generation of smart business is ProActive Retail™. North Coast Medical's technology ecosystem is built to help you get therapist recommended products to your customers easily. From our Virtual Showroom™ that adds an e-commerce mall to any website, to Rehab POS™ and RxCart™ that bring product ordering right into your private practice, ProActive Retail™ allows you to focus on your practice, while we handle the order and shipping logistics.