The Centers for Medicare and Medicaid issued its Final Ruling on TENS reimbursement for CLBP (chronic lower back pain) on June 8, 2012. CMS, as expected, ceased reimbursing TENS devices for use in the treatment of CLBP – clinical research being the only exception to the ruling. TENS devices, however, will continue to be reimbursed for other uses, including acute lower back pain.
Clinicians with positive experiences using TENS may find the agency's decision both confounding and disappointing. Why, one might ask, would CMS deny coverage of a device long held as the gold standard in treating CLBP, especially since TENS usage reduces reliance on pain-medications and decreases the numbers of surgical interventions?
While CMS insists that this particular decision was not based, in any part, on cost factors, our observations are that CMS often cites cost savings as its seminal achievement in the majority of press releases. Perhaps not coincidentally, the agency did happen to include a chart embedded in its ruling showing a significant spike in TENS usage during the 2006-2010 time period across all age groups. (Below)
Age distribution of Medicare beneficiaries purchasing a new TENS unit, 2006-2010
Regardless of intent, this decision is not quite the glass half-empty outcome many may believe it to be. The decision, after all, doesn't remove the opportunity to purchase TENS devices. It does, however, prevent middlemen from 'renting' TENS units at premium prices and selling them afterwards at co-pay price structures that can be above retail list.
Therapists really don't need all the obstacles, permission and paperwork they have coming at them today, especially in an environment of rapidly declining reimbursements (see chart below).  Going forward, clinicians should consider case-mix strategies and additional service offerings, such as maintenance memberships and cash sales to help offset lost revenue.  Toward maximizing business growth potential, clinicians might want to embrace the retail opportunity resulting from this decision. As part of an over-all growth strategy, cash sales of medical supplies and devices can not only shore up shrinking profit margins, but also empower patients with access to better pricing and additional product choice.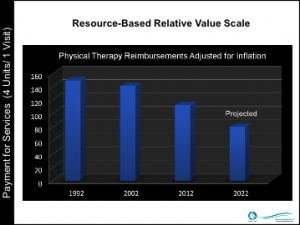 Data Source: Physical Therapy Business Alliance
North Coast Medical believes that this decision is just the first in a series of rulings that will affect reimbursements. In anticipation of these types of continued changes, we urge our customers to become even more proactive by taking advantage of the opportunities that come from seeing the glass as half full.