North Coast Medical headed to Orlando, FL for the 2015 PPS Annual Conference & Exhibition, November 11-14. We were beyond excited to unveil ground-breaking technologies that will impact the entire private practice industry. A big Thank You to those who stopped by booths 709, 711, and 713 for a preview of the items below.
If you've never been to the PPS Annual Conference, take a moment and watch the video below. You'll see how the private practice community works to support each other in business.


North Coast Medical is thrilled to announce our strategic partnership with CareConnections™. CareConnections™ is a web-based suite of rehabilitation medical management software solutions that specialize in meeting the needs of all its stakeholders, and North Coast Medical is proud to be their exclusive distributor. This revolutionary system adds to the value of patient care by helping to eliminate the inefficiencies and frustrations that drive up administrative costs. Stop by CareConnections booth #527 to learn how this technology can help your practice thrive in the modern world.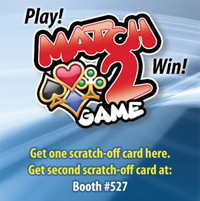 Our strategic partnership also included a fun Match-2-Win Game at PPS where attendees will had the chance to win awesome prizes! The North Coast booth #711 had blue scratch-off cards, and CareConnections booth #527 had red scratch-off cards. Collect one of each color card and return to the North Coast Medical booth where we had a TV screen with a list of numbers. If the numbers on your blue and red cards matched the TV, you won!

RehabPOS™ is brand new, and we are very excited to introduce our in-clinic point-of-sale solution. It's an entire POS ecosystem that enables you to focus on your practice, while we handle the seamless retail transactions. Our affiliates can now offer POS products at their clinic with payment scanners or tablets, and never have to manage product inventory. RehabPOS™ fully integrates with our Virtual Showroom™ technology, and auto-replenishes products based on your current inventory levels. You'll have access to real-time reporting, sales tracking, commissions earned and sales tax accounting. RehabPOS™ works for one clinic, or many. It's flexibility makes it a winner for any private practice!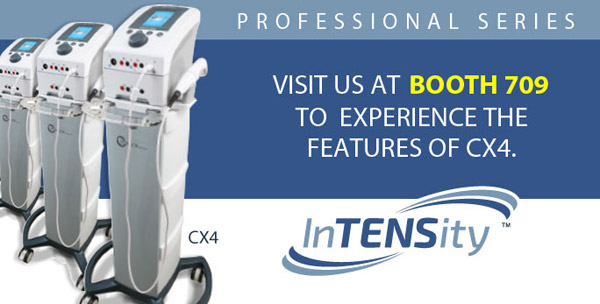 TENS units and Over-The-Counter have yet to be associated with each other, until now. This is big news for therapists who are now able to offer a TENS unit to their patients OTC. The InTENSity™ CX4 is an advanced combination four-channel electrotherapy and ultrasound system offering the practitioner a wide range of treatment options. The menu-driven color screen touch interface intuitively groups and displays clinical protocols, guiding clinicians step-by-step to ensure the ideal therapeutic treatment.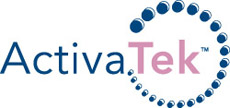 At this conference we will be demonstrating our technologically advanced ActivaTek™ product line. Activatek™ offers a combination of wired & wireless iontophoresis technology that provides physicians, patients and physical therapists with unparalleled control of iontophoresis drug delivery. Our lineup of ActivaPatch™ products feature three state-of-the-art, self-powered iontophoresis patches. Stop by our booths to see live demonstrations!

Didn't catch us at this event? No problem. Click here to see future shows we will be attending.