Comfort Cool® Thumb CMC Restriction Splint
Provides direct support for the thumb CMC joint while allowing full finger function.
Patented contoured neoprene strap wraps around the thumb CMC joint and the first metacarpal for direct CMC joint support.
Specifically designed for osteoarthritis and medial subluxation of the thumb CMC joint.
Reinforced stitching allows the splint to be trimmed below the thumb MP joint if desired.
Provides gentle compression that helps relieve thumb discomfort associated with CMC joint arthritis and/or instability, tendinitis or repetitive motion.
Made of thin, 1/16" (1.6mm) perforated neoprene with a terry cloth liner that helps keep skin cool and comfortable.
Plus sizes are a half size bigger in the hand and a full size larger in thumb circumference to accommodate enlarged thumb conditions.
Not made with natural rubber latex.
Anti-microbial.
Available in Black or Beige.
US patent# 6,702,772
To size, measure palm circumference.

Special Order: Items that either ship directly from the factory, is made to order or those that require additional shipping considerations. Special orders can be placed by calling customer service at 800.821.9319. Please login to view professional pricing or inquire whfdsfdsen placing your order. Special Orders are processed in a timely manner to assure customer satisfaction.
Volumetric Specifications
Unit Specifications
Weight Range from: 0.15 lbs.
Bag Dimension: 6 x 9 x 1.5 inches
Inner Case Specifications
Quantity: 10 pcs.
Weight: 2 - 3 lbs.
Dimensions: 10.5 x 25.5 x 3.5 inches
Master Case Specifications
Quantity: 100 pcs.
Weight: 9 to 14 lbs.
Dimensions: 19.6" x 14.9" x 11"
Hazmat: None

HCPCS*:

L3923

Click on a link above to highlight the affected items below
* North Coast Medical, Inc. cannot guarantee that suggested codes are the most current available. This information is not intended to be, nor should it be considered billing or legal advice. It is within the sole discretion of the customer to determine the appropriate billing code, as well as whether the use of a product complies with medical necessity.
Item Availability Definitions
In Stock: Standard shipping orders received before 5pm EST will ship the same day.
Expedited shipping orders received before 11am EST will ship the same day.


Out of Stock: Shipment times will vary, depending on expected arrival to our inventory. The typical wait time is just a few days. Orders with both in-stock and out-of-stock items will be shipped partial, with any out-of-stock items being back-ordered and shipped complete when all back-ordered items are available. Note: All freight and handling charges are calculated on the original order. Back-orders ship and invoice separately and will not be charged additional freight and handling.


Pending: We are not able to provide a reasonable expected date due to supply chain & other interruptions from the manufacturer. We will continue to accept orders for these items and fulfill them on a first-come, first-serve basis as inventory becomes available


Direct Ship: Direct-Ship items are shipped directly from the manufacturer. We place orders with the manufacturer within a few hours of receipt of your order. Shipping times will vary, depending on the efficiency of the individual manufacturer.


Special Order: Requires additional information such as delivery environment and service level in order to provide an accurate shipping cost and expected date of delivery from the manufacturer.


On Demand: Can be expected in 10-15 days. When orders are placed for these items, we will order them from the manufacture, and they will be included in our next incoming shipment. Once we receive your items, we will ship them to you from one of our two domestic warehouses. Note: We place orders with our vendors once a week, typically on Mondays.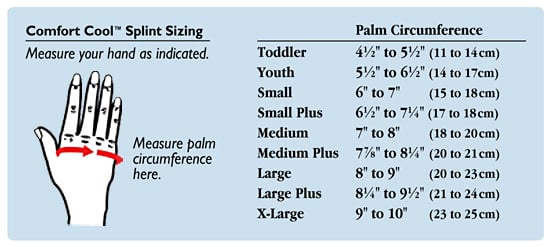 Item GTIN barcodes
NC79550 - 768627795500
NC79551 - 768627795517
NC79556 - 768627795562
NC79557 - 768627795579
NC79558 - 768627795586
NC79559 - 768627795593
NC79560 - 768627795609
NC79561 - 768627795616
NC79562 - 768627795623
NC79563 - 768627795630
NC79564 - 768627795647
NC79565 - 768627795654
NC79566 - 768627795661
NC79567 - 768627795678
NC79580 - 768627795807
NC79581 - 768627795814
NC79582 - 768627795821
NC79583 - 768627795838
NC79584 - 768627795845
NC79585 - 768627795852
NC79586 - 768627795869
NC79587 - 768627795876
NC79588 - 768627795883
NC79589 - 768627795890
NC79590 - 768627795906
NC79591 - 768627795913
NC79592 - 768627795920
NC79593 - 768627795937
| Item Number | | Size | DPC Circumference | Hand | | | Availability | Price | Qty |
| --- | --- | --- | --- | --- | --- | --- | --- | --- | --- |
| NC79562 | | Small | 6" to 7" (15 to 18cm) | Left | | | In Stock | | |
| NC79563 | | Small | 6" to 7" (15 to 18cm) | Right | | | In Stock | | |
| NC79556 | | Small Plus | 6-1/2" to 7-1/4" (17 to 18cm) | Left | | | In Stock | | |
| NC79557 | | Small Plus | 6-1/2" to 7-1/4" (17 to 18cm) | Right | | | In Stock | | |
| NC79564 | | Medium | 7" to 8" (18 to 20cm) | Left | | | In Stock | | |
| NC79565 | | Medium | 7" to 8" (18 to 20cm) | Right | | | In Stock | | |
| NC79558 | | Medium Plus | 7-1/4" to 8-1/4" (19 to 21cm) | Left | | | In Stock | | |
| NC79559 | | Medium Plus | 7-1/4" to 8-1/4" (19 to 21cm) | Right | | | In Stock | | |
| NC79566 | | Large | 8" to 9" (20 to 23cm) | Left | | | In Stock | | |
| NC79567 | | Large | 8" to 9" (20 to 23cm) | Right | | | In Stock | | |
| NC79560 | | Large Plus | 8-1/4" to 9-1/2" (21 to 24cm) | Left | | | In Stock | | |
| NC79561 | | Large Plus | 8-1/4" to 9-1/2" (21 to 24cm) | Right | | | In Stock | | |
| NC79550 | | X-Large | 9" to 10" (23 to 25cm) | Left | | | In Stock | | |
| NC79551 | | X-Large | 9" to 10" (23 to 25cm) | Right | | | In Stock | | |
Item Number
Size
Price
Qty
NC79562

Small

In Stock

DPC Circumference:&nbsp&nbsp

6" to 7" (15 to 18cm)

Hand:&nbsp&nbsp

Left

NC79563

Small

In Stock

DPC Circumference:&nbsp&nbsp

6" to 7" (15 to 18cm)

Hand:&nbsp&nbsp

Right

NC79556

Small Plus

In Stock

DPC Circumference:&nbsp&nbsp

6-1/2" to 7-1/4" (17 to 18cm)

Hand:&nbsp&nbsp

Left

NC79557

Small Plus

In Stock

DPC Circumference:&nbsp&nbsp

6-1/2" to 7-1/4" (17 to 18cm)

Hand:&nbsp&nbsp

Right

NC79564

Medium

In Stock

DPC Circumference:&nbsp&nbsp

7" to 8" (18 to 20cm)

Hand:&nbsp&nbsp

Left

NC79565

Medium

In Stock

DPC Circumference:&nbsp&nbsp

7" to 8" (18 to 20cm)

Hand:&nbsp&nbsp

Right

NC79558

Medium Plus

In Stock

DPC Circumference:&nbsp&nbsp

7-1/4" to 8-1/4" (19 to 21cm)

Hand:&nbsp&nbsp

Left

NC79559

Medium Plus

In Stock

DPC Circumference:&nbsp&nbsp

7-1/4" to 8-1/4" (19 to 21cm)

Hand:&nbsp&nbsp

Right

NC79566

Large

In Stock

DPC Circumference:&nbsp&nbsp

8" to 9" (20 to 23cm)

Hand:&nbsp&nbsp

Left

NC79567

Large

In Stock

DPC Circumference:&nbsp&nbsp

8" to 9" (20 to 23cm)

Hand:&nbsp&nbsp

Right

NC79560

Large Plus

In Stock

DPC Circumference:&nbsp&nbsp

8-1/4" to 9-1/2" (21 to 24cm)

Hand:&nbsp&nbsp

Left

NC79561

Large Plus

In Stock

DPC Circumference:&nbsp&nbsp

8-1/4" to 9-1/2" (21 to 24cm)

Hand:&nbsp&nbsp

Right

NC79550

X-Large

In Stock

DPC Circumference:&nbsp&nbsp

9" to 10" (23 to 25cm)

Hand:&nbsp&nbsp

Left

NC79551

X-Large

In Stock

DPC Circumference:&nbsp&nbsp

9" to 10" (23 to 25cm)

Hand:&nbsp&nbsp

Right
| Item Number | | Size | DPC Circumference | Hand | | | Availability | Price | Qty |
| --- | --- | --- | --- | --- | --- | --- | --- | --- | --- |
| NC79580 | | Small | 6" to 7" (15 to 18cm) | Left | | | In Stock | | |
| NC79581 | | Small | 6" to 7" (15 to 18cm) | Right | | | In Stock | | |
| NC79582 | | Small Plus | 6-1/2" to 7-1/4" (17 to 18cm) | Left | | | In Stock | | |
| NC79583 | | Small Plus | 6-1/2" to 7-1/4" (17 to 18cm) | Right | | | In Stock | | |
| NC79584 | | Medium | 7" to 8" (18 to 20cm) | Left | | | In Stock | | |
| NC79585 | | Medium | 7" to 8" (18 to 20cm) | Right | | | In Stock | | |
| NC79586 | | Medium Plus | 7-1/4" to 8-1/4" (19 to 21cm) | Left | | | In Stock | | |
| NC79587 | | Medium Plus | 7-1/4" to 8-1/4" (19 to 21cm) | Right | | | In Stock | | |
| NC79588 | | Large | 8" to 9" (20 to 23cm) | Left | | | In Stock | | |
| NC79589 | | Large | 8" to 9" (20 to 23cm) | Right | | | In Stock | | |
| NC79590 | | Large Plus | 8-1/4" to 9-1/2" (21 to 24cm) | Left | | | In Stock | | |
| NC79591 | | Large Plus | 8-1/4" to 9-1/2" (21 to 24cm) | Right | | | In Stock | | |
| NC79592 | | X-Large | 9" to 10" (23 to 25cm) | Left | | | In Stock | | |
| NC79593 | | X-Large | 9" to 10" (23 to 25cm) | Right | | | In Stock | | |
Item Number
Size
Price
Qty
NC79580

Small

In Stock

DPC Circumference:&nbsp&nbsp

6" to 7" (15 to 18cm)

Hand:&nbsp&nbsp

Left

NC79581

Small

In Stock

DPC Circumference:&nbsp&nbsp

6" to 7" (15 to 18cm)

Hand:&nbsp&nbsp

Right

NC79582

Small Plus

In Stock

DPC Circumference:&nbsp&nbsp

6-1/2" to 7-1/4" (17 to 18cm)

Hand:&nbsp&nbsp

Left

NC79583

Small Plus

In Stock

DPC Circumference:&nbsp&nbsp

6-1/2" to 7-1/4" (17 to 18cm)

Hand:&nbsp&nbsp

Right

NC79584

Medium

In Stock

DPC Circumference:&nbsp&nbsp

7" to 8" (18 to 20cm)

Hand:&nbsp&nbsp

Left

NC79585

Medium

In Stock

DPC Circumference:&nbsp&nbsp

7" to 8" (18 to 20cm)

Hand:&nbsp&nbsp

Right

NC79586

Medium Plus

In Stock

DPC Circumference:&nbsp&nbsp

7-1/4" to 8-1/4" (19 to 21cm)

Hand:&nbsp&nbsp

Left

NC79587

Medium Plus

In Stock

DPC Circumference:&nbsp&nbsp

7-1/4" to 8-1/4" (19 to 21cm)

Hand:&nbsp&nbsp

Right

NC79588

Large

In Stock

DPC Circumference:&nbsp&nbsp

8" to 9" (20 to 23cm)

Hand:&nbsp&nbsp

Left

NC79589

Large

In Stock

DPC Circumference:&nbsp&nbsp

8" to 9" (20 to 23cm)

Hand:&nbsp&nbsp

Right

NC79590

Large Plus

In Stock

DPC Circumference:&nbsp&nbsp

8-1/4" to 9-1/2" (21 to 24cm)

Hand:&nbsp&nbsp

Left

NC79591

Large Plus

In Stock

DPC Circumference:&nbsp&nbsp

8-1/4" to 9-1/2" (21 to 24cm)

Hand:&nbsp&nbsp

Right

NC79592

X-Large

In Stock

DPC Circumference:&nbsp&nbsp

9" to 10" (23 to 25cm)

Hand:&nbsp&nbsp

Left

NC79593

X-Large

In Stock

DPC Circumference:&nbsp&nbsp

9" to 10" (23 to 25cm)

Hand:&nbsp&nbsp

Right